It is University policy that all printing, copying and graphic design on behalf of the University of Southern Indiana be performed by or purchased through the University Creative and Print Department. This department provides the best design, print and copy value available for the University's marketing and communication needs by producing and managing jobs and projects in-house.
The department offers professional creative services, technical expertise and knowledge of printing industry best practices, purchasing specifications and experience with reputable industry vendors. Any requests for off-campus design or printing services by departments are facilitated through Creative and Print and require prior approval of the Director of University Creative and Print.
Creative and Print adheres to established University brand and style guidelines and mail piece design requirements of the United States Postal Service.
Services include (but not limited to):
Graphic design — print, web/digital, social media, animated graphics, large format, signage, promotional products
Printing — digital press and offset press
Fully equipped bindery
Copying
Large format printing, finishing and installation
USI Brand library management
These services are obtained by accessing the appropriate order form on the department's website www.usi.edu/creative-print/order. Projects are professionally designed to meet established University style, brand consistency and quality requirements. University partners also are encouraged to visit the department's website to view helpful guidelines when planning a design/print project.
Any brochures, postcards, flyers, booklets, posters and other materials containing information about University programs, services and activities created by campus departments and offices are to be reviewed by the Director of Creative and Print before distribution.
Completed jobs are charged through the University's chargeback system. The department archives all printed and designed projects that it creates for University departments.
Copying/printing is provided by Copy Services, which is located in the Publishing Services Center or on satellite equipment located across campus.
Copy Services
Press-quality color printing, large format printing, variable data printing and mail merge also are available in the Copy Center. A dedicated courier service ensures timely delivery of orders to all University departments. When copying more than 20 single black/white originals, it is advised to utilize the Copy Center for higher volume printing.
University Fleet Copiers
The University's centralized copier program is managed and maintained by University Creative and Print. The satellite copiers are fully networked, allowing offices to print directly to these devices. Paper for the fleet copiers is ordered through Creative and Print utilizing the form provided at www.usi.edu/creative-print/order.
University Brand Guidelines and Logos  
Creative and Print maintains the official library of all University Academic and Athletic logos and Archibald "Archie" the Eagle artwork. These logos may be requested by the University community for approved uses.
The University Academic and Athletic logos are used on promotional literature, marketing collateral and other University and Athletic documents and merchandise. Alteration of any University Academic or Athletic logos and Archie Eagle artwork is prohibited. For a complete guide on usage and to download approved logos for reproduction, go to www.usi.edu/brand. Any reproduction of the USI logos must be approved by the Associate Director of University Brand and Special Projects of Marketing and Communication or the Director of University Creative and Print. Direct any questions or concerns to these individuals.
University Seal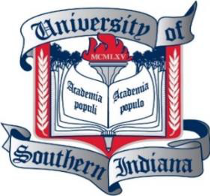 For the official usage policy regarding the University Seal go to www.usi.edu/brand.
University Stationary
Approved USI letterhead, envelopes and business cards used by departments, centers, offices, colleges or other units of the University follows an adopted style in wording, type style, size of type and layout. The letterhead of the University should not be used to indicate University endorsement or support of any non-University associated enterprise. These items are ordered from the Creative and Print department at www.usi.edu/creative-print/order. 
Affirmative Action Statement
All publications, brochures or similar informational materials used for individuals or audiences external to the University must contain the following statement:
The University of Southern Indiana's Equal Opportunity and Non-Discrimination Policy prohibits all forms of unlawful Discrimination and related Harassment toward any University community member on the basis of race, color, religion, sex, pregnancy or marital status, parental status, national origin or ancestry, age (40 and older), disability, genetic information, sexual orientation, gender identity, gender expression, veteran status or any other category protected by law or identified by the University as a protected class.  Compliance with this Policy is a term and condition of a person's employment, membership, or affiliation with the University of Southern Indiana.
Internal publications or those with limited written copy must contain, at a minimum, a shortened version of the previous statement:
The University of Southern Indiana is committed to principles of equal opportunity and affirmative action.
Questions regarding the appropriate language should be submitted to the Institutional Equity Office.